About Us
HEADING TO THE GREAT OUTDOORS
Welcome to Flattail Furs of Beaver Island, Michigan!
Here's a little bit about us: We live on Beaver Island, which is located 32 miles off the northwest coast of Michigan's lower peninsula, and is the most remote inhabited island of the Great Lakes (not to mention that it was once ruled by a self-proclaimed king!)
Ok, let's talk about our founder Mark Valente...he arrived from Detroit in '78, with the goal of getting back to nature. He's always been intrigued by stories of the trappers that helped discover this vast country, so he set out to teach himself how to trap the ever growing beaver and coyote populations on the island. The years went by and as the fur market changed, Mark realized he needed to change his end goal with the pelts - instead of selling them as-is, he thought "why not make something from them?" He spent the next year and a half researching and purchasing the specialized fur sewing machines he would need, teaching himself how to operate them (no user manuals or pdf files came with these babies, which were built back in the early 30's) and designing his first patterns.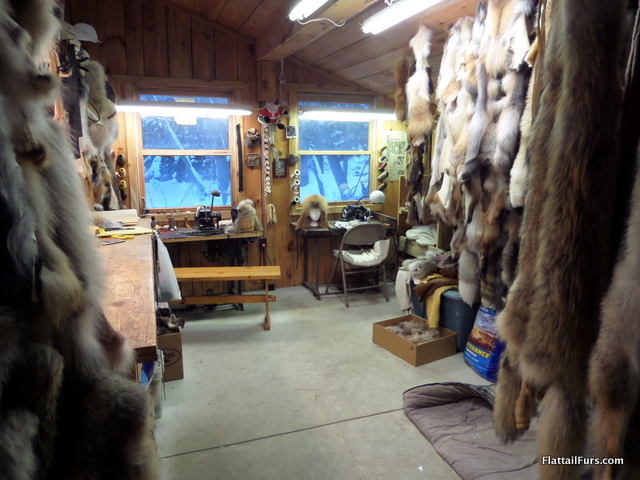 Since then, Mark has expanded his scope to include several styles of winter hats, earmuffs, mittens, scarves, headbands, and the ever popular (wait for it)...Beaver Fur Can-Cooler/Cozy. Seriously, it's the best thing since sliced bread, but don't just take our word for it.
TRADING IN HEELS FOR MUCKS*
Enter Laura Green (that's me), Mark's better half (I'm not lying), and the other half of Flattail Furs.
In 2009 I made the serendipitous decision to run the half-marathon on Beaver Island, where I ran into Mark (well, more like hobbled), and we rekindled an earlier romance from way back when (summer of '95 to be exact). The next thing I know, I too am transplanted to the island. I took the business and computer savvy I had acquired from the restaurant business in Chicago and applied it to the behind-the-scenes action for Flattail Furs.
2011 was a great year for us. Not only did we open a brick and mortar store in Beaver Island's little town of St. James, but we also took our first step into e-commerce by creating a shop on Etsy. Since 2011 we have learned a thing or two about e-commerce and its ever changing constructs, which was the impetus for creating our own website. "Getting back to basics" was the draw for relocating to Beaver Island and "Getting back to basics" is the draw for our own online store.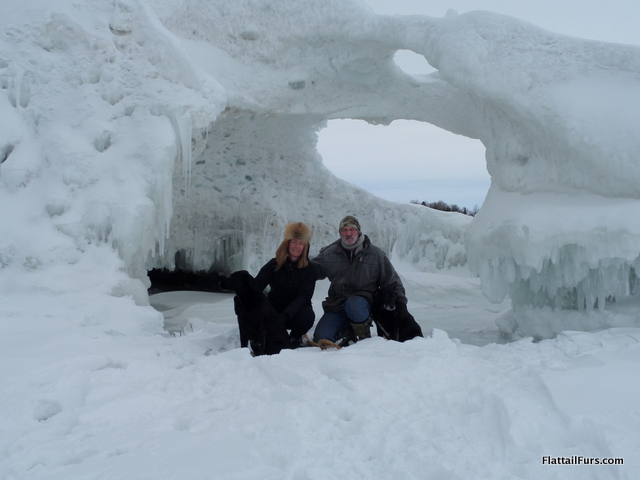 WHAT IS FLATTAIL FURS?
Sustainable. Organic. Handmade. These three words and living off the land are at the heart of Flattail Furs. We go to great lengths to source our own materials and create the best quality products, all while trying to incur the least amount of waste. Mark's knowledge of when and how to go about trapping shows in the quality of the fur that we use. The beaver could be considered our totem animal of sorts, and very little of the beaver is wasted. We are avid hunters of deer, turkey and other small game. Not only does this provide sustenance, but we also incorporate as much of these animals as we can into our products. Even our pet guinea fowl, pea fowl, and silkie chickens do their part around the farm by providing the feathers that we use for jewelry and accenting other pieces.
Whether you purchase a hat, mittens or jewelry from us, please be assured you are participating in a sustainable part of the ecosystem as well as acquiring a handcrafted item that will last you for years to come.
*Muck Boot Company® is a brand of boot that I prefer to wear for various outdoor and farming activities. I am not an affiliate nor do I recieve any compensation/freebies from Muck Boot Company®